Tuesday, 07 April 2020 - Université Frère Mentouri - Constantine 1
Tuesday, 07 April 2020 13:14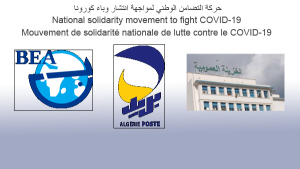 As part of the National Solidarity Movement in the fight against the spread of the Corona virus (Covid 19), we have the honor to communicate to you the accounts that the government has allocated to allow citizens wishing to contribute to this movement to deposit their donations:
Treasury account: Covid. 19 13737, Algeria.
Postal current account: Covid. 19 200 key - 12, Algeria.
Covid 19 Bank Account (BEA): For donors in foreign currencies:
In euros: 002001121123000001/46
In dollars: 002001121123000002/43
Pound sterling: 002001121123000003/40