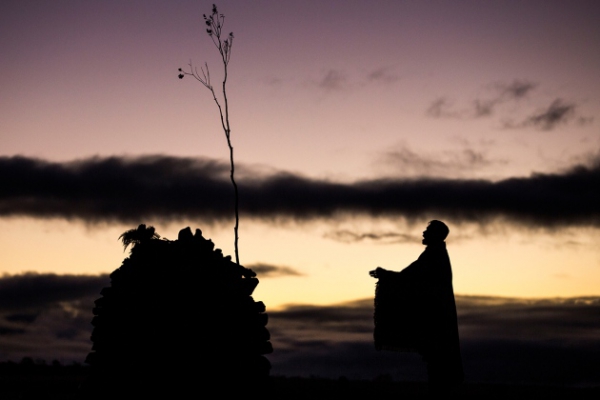 The mountain-top battle over the Thirty Meter Telescope
Plans to build one of the world's biggest telescopes on Mauna Kea in Hawaii are mired in conflict. Four people involved in the fight explain their diverse views.
A low, mournful note rings across the broad summit of Mauna Kea, the highest peak in Hawaii. Joshua Lanakila Mangauil lowers his conch-shell horn and begins to walk over the craggy volcanic rock. Behind him come a dozen other Native Hawaiian men and women, many carrying the red, white and blue state flag. Together, they sing traditional chants as they hike up a volcanic ridge, headed for the top of the mountain.
On this July day, Mangauil is leading a reverent but short visit to the 4,200-metre-high summit. Native Hawaiian tradition calls for visitors to pay their respects to the sacred mauna, or mountain, and then leave. The group planned to stay a few hours, then get back into its pickup trucks and drive to a camp farther down. There they would resume the task that has consumed Mangauil and others for the greater part of a year: protecting the mauna from an effort to build a massive telescope.
An international consortium plans to construct the Thirty Meter Telescope (TMT) on top of Mauna Kea on Hawaii's Big Island. A cutting-edge astronomical facility, it would have a light-gathering mirror 3 times bigger than any of the 13 other telescopes already on the mountain, which include some of the largest and most scientifically productive observatories in the world.
TMT construction began in April and stopped almost immediately when demonstrators led by Mangauil blocked the vehicles from reaching the summit. They say that the TMT would violate both a fragile ecosystem and indigenous rights that have not been properly valued by astronomers. "Before you look into space, you need to respect this place," Mangauil says.